TONY & KRIS
|

OVER 30 YEARS ON THE AIR
Tony Randall and Kris Rochester began their nearly 31-year career at WHMA in Anniston, Alabama in 1991. After only a 10-month run, they were offered the dream job of moving WAY up the chain to KSON in San Diego. They spent nearly 16 years in San Diego before moving their show to Nashville for 8 years of syndication. After a brief retirement, they "got the band back together" to take the reins at WIVK in Knoxville. 5 years of great ratings later, they're ready for greener pastures and new challenges.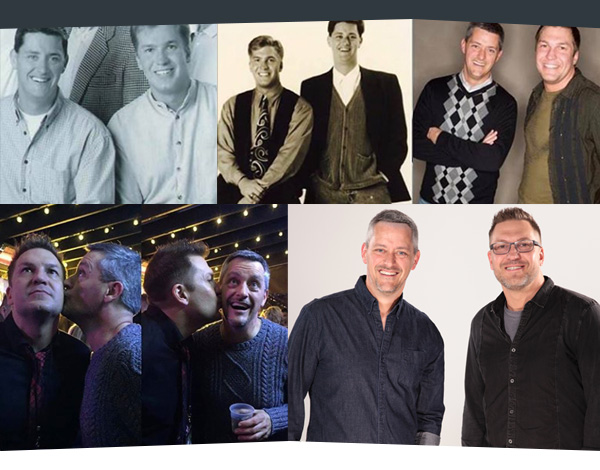 WITH FROM THE TK1 COMMUNITY
TK1 Mira
"You are both awesome! Wherever you are and and whatever you do and however you do it, no matter what platform, your people will follow you. LOVE you guys!!"
TK1 Brett
"So I moved here to East TN from Texas about 4 years ago and found y'all shortly after. You've been a daily staple to my mornings with humor, knowledge, humility, and and overall kindness the world needs more of. From the bottom of my heart, thank you for everything you've done so far."
TK1 Teresa
"I lost my Mom May 10th. We would listen to Tony and Kris to and from chemo and radiation therapy. We would try and beat Kris on my country knowledge. Now all I have is a memory. You guys are the best."
TK1 Luke
"You guys have always been awesome!! Any station in the world would be smart to have you!!!"
TK1 Dawn
"I didn't really start listening to country music until you guys came along. Then I became hooked, just because I enjoyed you guys so much. Driving to work every morning I had a smile on my face because you guys are so much fun to listen to."
TK1 Brad
"I'll say this, I'm more of an old school country music person, so I don't listen to newer country hardly at all, and to be honest the only reason I listened to WIVK was because of you 2."
TK1 Betty
"I have enjoyed every minute of your allowing us to be a part of your family. Have loved hearing about it over the years."
GET IN TOUCH WITH TONY & KRIS
Tony & Kris would love to hear from you! Hit us up on the TK1 text line at (865) 896-9363, shoot us an email at tk1@tonyandkris.com, visit us on social media, or fill out the contact form below.
"*" indicates required fields